Nirav Engineering Works as the name suggests, constantly strives to re-invent itself to do something NEW, something that has never been done before and, if at all it has to be done then we want to do it differently to add value to our customers.
We at Nirav Engineering are Manufacture of Turned,Pressed and Forged components such as Earthing straps,Hydraulic,Pneumatic and fuel line system connectors,Electrical wiring terminals and battery cable assemblies.
An IATF 16949:2016, ISO 14001:2015 certified co, we are supplying components to various OEM's for the past 34 years.
A Proven track record, which solidifies further by introduction of best practices such as KAIZEN, TPM,5S which together make us an ideal partner for our customers who value our association with the new product developments offered by us time and again.
Our Motto is to delight the experience of our: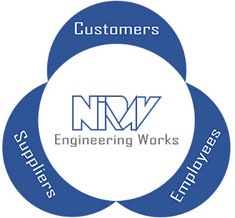 To become a World class Company